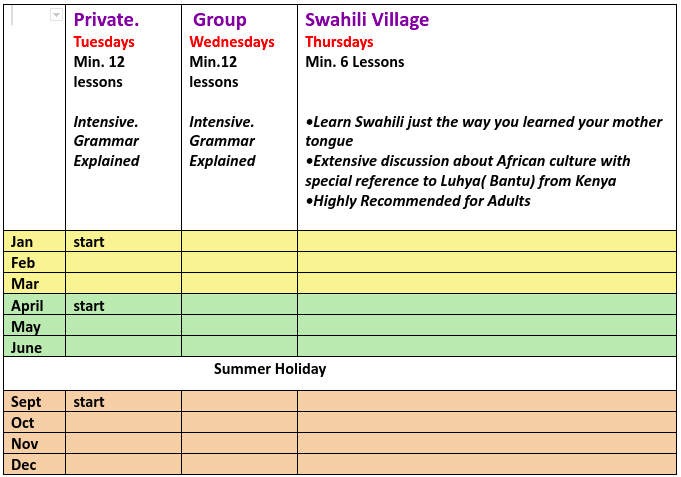 We specialise in teaching Swahili  as a second language.
Our mission is to help each learner reach his or her full potential in attaining his or her language goals. We do so by providing a personal, high-quality, and affordable learning experience. Our courses cover Reading, Writing, Listening and Speaking simultaneously and are taught by native speakers. We also tailor the lessons to your needs; for instance- Medical Swahili & Business Swahili. We use Swahili Grammar books developed by International Swahili School
Europe: Beginners
America: Beginners
Europe: A1
America: Intermediate Low
Europe: A2
America: Intermediate mid
Alphabet
Reading
Me & My body
Numbers
My friends
My neighbour
My family
At school
On holiday

Me & My family
Numbers
Introducing yourself
Grammar U-I noun group
Grammar A-WA noun group
Grammar KI-VI noun group
Verbs
Prepositions
Negation
Transportation
Weather & Clothing
Shapes and colours

Grammar LI-YA noun group
Grammar YA-YA noun group
Grammar I-ZI noun group
Grammar I-ZI noun group
Grammar U-ZI noun group
Grammar U-U- noun Group
Grammar I-I noun group
Grammar KU-KU noun group
Past simple tense
Comparative Adverbs
Future tense
Imperatives
Numbers per noun class
Zero Conditional, 1st Conditional
Passive forms
Reflexive Pronouns
Habituals
Negating in future
A lot of Conversations

Kiswahili from the "Eye of God"
The African continent has many languages. But if there is one language that a non-African, or a diasporan African, must learn, it should be Kiswahili. The language is spoken in many countries including Kenya, Tanzania, Uganda, Burundi, Congo and parts of Mozambique and South Africa. It is taught in many universities in Africa, Europe, Asia and America. Kiswahili is not only pan African, but also global.
There are many books from which one can learn Kiswahili. But I really recommend Swahili Books 1 and 2, by Odilia Anyachi Okonga. The illustrations that accompany the texts are clear, varied and captivating. Each picture tells a visual story. The vocabulary is arranged in such a way that by the time you have gone through the two texts, you should be able to read Kiswahili texts, and hold a decent conversation in Kiswahili.
Anyachi, one of the names of the author, means , "eye of God". What better way of learning Kiswahili but from one with the eye of God, who gave humans the power of speech?